Veitsitehdas – The Old Knife Factory
Where they used to make Fiskars knifes you'll find something completely different made today. Veitsitehdas – The old knife factory is today home to Fiskars brewery, Ägräs Distillery and Noita Winery.
VEITSITEHDAS (The old knife factory)
An experience place that offers everything but knives.
At the old Fiskars knife factory, everything but knives are now being manufactured. Knives and scissors were manufactured in the premises until 2001, today the sharpest ones are mainly our drink inventions, for which we draw ideas from both nature and our imagination. At Veitsitehdas we responsibly produce tasty drinking experiences from Fiskars Brewery, Ägräs Distillery, Noita Winery and Suomenlinna Brewery. In addition to production, at Veitsitehdas you will find a liquor store, bar, restaurant and a visitor center offering experiences.
Veitsitehdas gastrobar and venues
Our gastrobar serves beers, natural wines and distilled products made in Veitsitehdas – and artisan cocktails created from them. In the winter season 2022–2023, our restaurant's kitchen will function only for advance group bookings but in the summer season, the chefs will sharpen their knives for more daily à la carte activities. The versatile facilities of the Veitsitehdas are suitable for organizing various events, for parties and meetings. Our range of services can be customized to create memorable experiences for our corporate and private customers as needed.
Veitsitehdas shop
The brewery's drink shop sells all of our Fiskars Brewery, Noita Winery, Ägräs Distillery and Suomenlinna Brewery beverages under 5.5% for home consumption. In addition to drinks-to-go, there's our ethically sourced range of merchandise, including brewery t-shirts, Noita Winery socks, Ägräs Distillery sweatshirts and much more. Our tasting package of six products is an excellent house-warming party gift, and for personal use you can of course double the amount! www.brukett.fi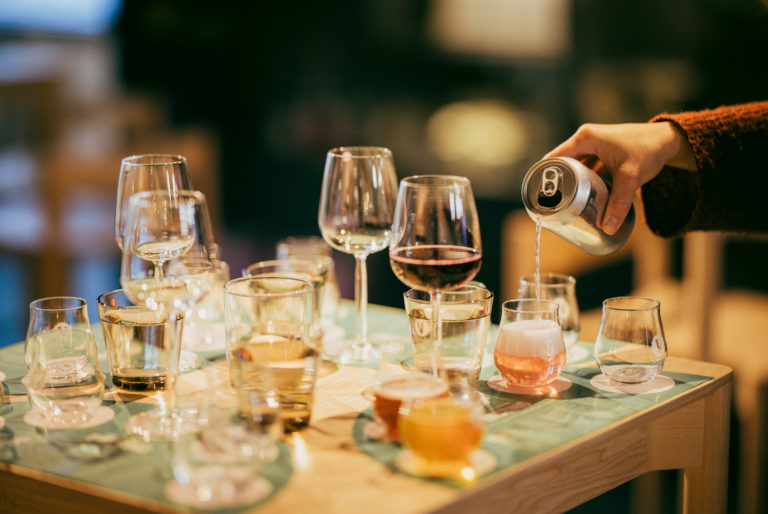 Guided tours and tastings
We organize guided visits to our premises, during which visitors get a peek behind the scenes and hear how the magic happens on the other side of the beverage factory. The tour introduces you to brewing beer, making wine and the world of distilling. At the end of the tour, it is possible to participate in a guided product tasting. Guided tours are organized throughout the year, and it is possible to customize private tours and tasting services for larger groups.
Veitsitehdas is a production and experience center for Brukett Oy.
Read more about our brands: