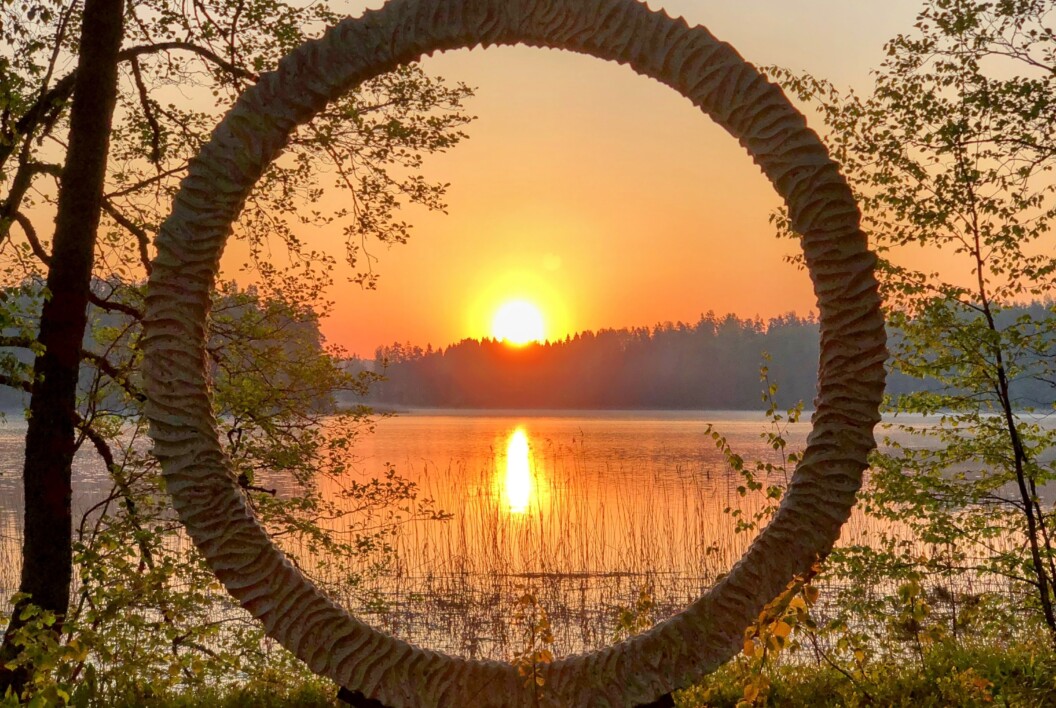 Sun Lens – sculpture by artist Adam Detre
A short hike from the village center, on the Kieloniemi peninsula, you'll find one of Adam Detre's on sight sculptures – the Sun Lens.
Adam Detre is a sculptor who was born in London, England and moved to Fiskars Village in 2020. He has a Finnish wife and a young son. He completed a piece called Water #3 next to the river in the center of Fiskars in 2021.
Adam fell in love with the visual arts when he was a teenager. He was given his first chisel by his school art teacher – a tool which he still possesses – who encouraged him to work in three dimensions rather than two. This turned out to be a key moment in his life and career.
In 2017, Adam's Wall Carvings Series – a series of ambient light installations – was commissioned by a luxury resort in the Philippines. With this commission, Adam had the impetus to start his company – Adam Detre Designs Oy – and move a step closer to working full-time as a sculptor.
Sun Lens is a site-specific sculpture that encourages the viewer to celebrate the value of the sunrise on Juhannus and the hope it brings just like our ancestors did.
Sun Lens lives in the mystical Kieloniemi peninsula to the north of Fiskars Village. It faces 37° North East so that the sun appears in its centre once it is first fully visible above the trees on the horizon on Midsummer.
It is made from salvaged construction wood – continuing Adam's preference to re-use or salvadge his materials rather than taking trees or 'fresh' wood to make his sculptures.
The project was completed and installed in May 2023 and will remain in place for at least one year.
What is Adam's main inspiration. He says simply, "curiosity."
Adam had a long-term ambition to create a site-specific sculpture that aligns with an important celestial events – in this case, he chose the sunrise on Midsummer. By completing the sculpture Adam happily admits that he "fulfilled a dream" but now seeks to continue to make site-specific sculptures around the world that relate to and interact with nature.
Adam likes to find his inspiration from nature or natural events especially their relations to how human's interact. He works mainly in wood but has recently started trying to 'grow' sculptures using different mediums.
Adam is always planning with a few ideas in advance of the current project.
To continue with the Sun Lens theme, Adam plans to create a series or 'community' of Celestial Lenses whereby each piece will act as a frame through which the viewer is encouraged to look. They serve as a prompt for the importance of nature, the passing seasons, and the light of the moon or the warmth of the sun. A reminder that our ancestors would have relied on each season's bounty and harvest to survive.
Adam has funding for a another large, site-specific series of sculptures in the USA which relate directly to their surroundings in the Rocky Mountains.
He is hoping to open a boutique sculpture gallery in 2024 in the forest near his home on the outer edges of Fiskars Village. You can organise a visit to his studio or start a discussion about commission a unique piece via social media or through the contact page on his website.
Adam's work is also visible at: