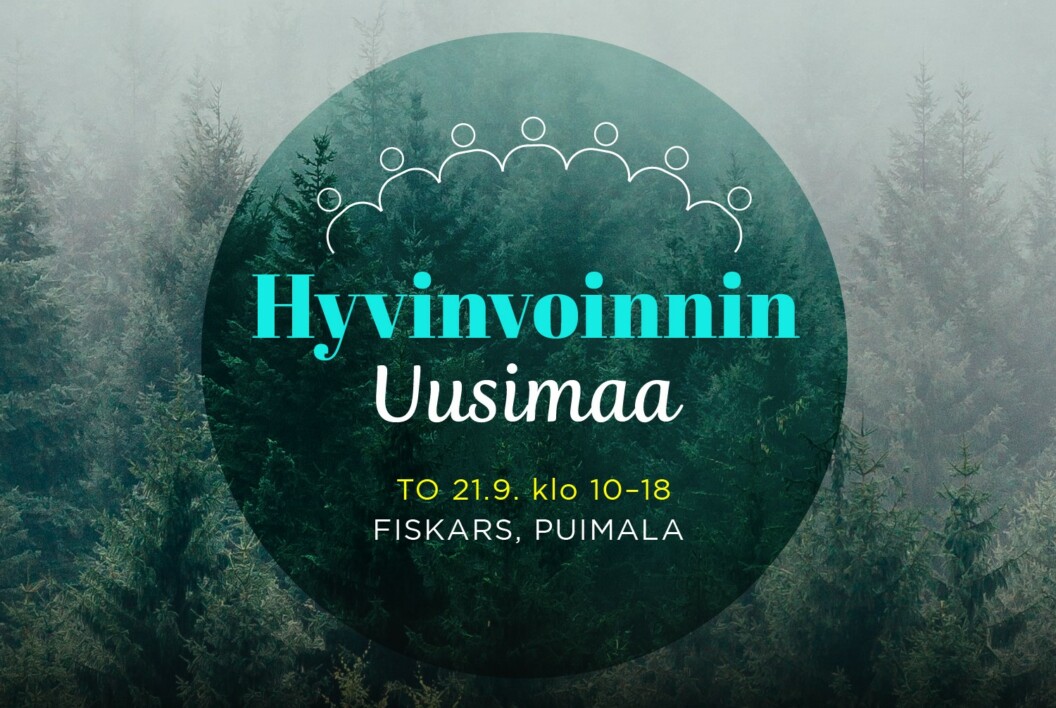 The Uusimaa of Wellbeing – Wellness Tourism Development Day
thurs 21.9.2023
The Uusimaa of Wellbeing – Wellness tourism development day
Welcome to the experiential cooperation-promoting and kick-starting event aimed at Uusimaa's welfare operators and service entrepreneurs at Fiskars Threshing House on 21 September 2023 from 10am to 6pm.
The day includes inspiring talks and experiences that together create a unique outbound. Everyone who arrives also brings with them their own expertise and the opportunity to be discovered, so that new and creative cooperation opportunities can arise during the day and after. We meet at Fiskars Village, whose surrounding areas and nature invite more and more well-being professionals to the area through their distinctive energy.
Experimental talks & moments:
(whole program in Finnish)
Elina Laari, Fiskars Village: Wellness tourism
Teemu Syrjälä, wellness coach, mentor: Community spirit and entrepreneurship
Mikaela Vuorisalmi, wellness entrepreneur: Nature connection and invisible values ​​in international trade
Päivi Penttilä, Haaga-Helia: The big picture of tourism – how to create a functioning destination?
Chris Langenskjöld, Founder of Billnäs Gård: The Good, the money and the values
Mari Rasimus, wellness and media entrepreneur: Experiential and impressive service concepts
Hale Heikkilä, musician, wellness entrepreneur: Intuitive musical experiences
Ilkka Koppelomäki, coach: Dreams come true
After the event, spend the evening at the Fiskars village sauna. The sauna ticket can also be redeemed on the spot. RastaChef sells barbecue delicacies and refreshments from their stall at the sauna.
Tickets and meals:
The €59 ticket (incl. VAT 10%) includes the program and a vegetarian lunch provided by Rastachef.
Sauna ticket €10 (incl. VAT 10%)
The sauna ticket is entry to Fiskars' idyllic village sauna after the day's event.
RastaChef sells halloumiburgers and refreshments during the evening from their street kitchen cart at the sauna. You can also buy a sauna ticket at the event (in this case, we cannot promise that there will be enough burgers).
Registration for the event by 19.9 to enable the organization of meals.
More informaton on Facebook-